{TCFS #50} Celebrating 50 Podcast Episodes, Exploring Commitment & The Three Principles
Quick question for you this morning…
Why is it that some people are able to follow through on their promises, honor their word and stay committed to their vision until they've achieved their goals while others constantly drop the ball on their dreams?
A friend of mine answered recently: "MINDSET! It's all about mindset!"
And I agree.
However, the usual mindset conversation — the one so prevalent in the self-help / personal development world — is flawed, and I believe it's time to have a new conversation, one that actually EXPLAINS how the mind works as opposed to how we need to FIX it.
It's true, the mind is a powerful thing. It'll show you fresh new possibilities one moment and, the next, stop you dead in your tracks with one single deflating thought.
The issue at hand, therefore, is NOT fixing your mindset but, rather, SEEING the truth: that your thoughts AREN'T REAL in the first place. Why would you work on fixing something that's made up? Wouldn't it be easier to just SEE that this is a temporary, made-up reality and that with a fresh new thought comes a fresh new reality?
Cause here's the thing: Your mind is not a camera; it's a projector.
See this for yourself, and you'll never have to work on your mindset again. Ever.
Now, I realise that this is a big topic to cover and that there's a lot more to say about it. That's why I created my podcast: to explore the inside-out understanding of The Three Principles and what it practically looks like in everyday business-building.
It's also why I created Launch & Prosper where, in the last 11 months, I've worked with a select group of impact-driven entrepreneurs to explore the creative and unstoppable force that we all have within us and the huge impact it has when channeled consciously in our daily life and business.
One of the themes that emerged in our mastermind conversations was about commitment: committing to our vision, to listening to our wisdom, to taking consistent inspired action — and committing to our goals even when it looks impossible or hard.
These conversations have inspired my latest podcast episode (#50!), and you can listen to it here.
In this podcast episode, we're exploring…
What to do when the shit storm in your head looks real and you want to quit

What it means (for you) to stay committed

What to do if motivation isn't there anymore
 (and how to get it back)
How to summon inspiration on demand

Is there such a thing as a source of infinite possibility, and can you align to it, tune into it anytime, anywhere?

And do you really need to be inspired to get things done and take action?
I'm also going to cover…
Honouring your own words

Taking action in alignment with your desires

The difference between changing your mind because wisdom tells you to or changing your mind because "it's too hard"
Deciphering wisdom versus listening to the ego mind that wants you to quit
And…

Knowing when to quit or when to stay on track
If you're new to the intuitive business-building approach, you'll want to snatch a new freebie I created to accompany this podcast episode. It includes a PDF called Questions To Probe Your Intuition & Get Clarity On Your Next Steps, a beautiful guided visualization and a short video that will guide you through the process. Scroll down to sign up and get your free access.
And if you still can't seem to get clear answers on your next steps, if you feel a little stuck or you can't see the bigger picture, do yourself a favour and book a call with me. 
Together we'll get to the bottom of it.
Caroline, XO
PS: Spots are now open for Launch & Prosper 2018, and you can learn more about the 3 options available here.


DOWNLOAD "QUESTIONS TO PROBE YOUR INTUITION & GET CLARITY ON YOUR NEXT STEPS"
Gmail, Yahoo and Hotmail users: please check your junk for your confirmation email then move it email to your "MAIN" folder.
WHAT PEOPLE ARE SAYING ABOUT
THE CAROLINE FRENETTE SHOW
Listening to this feels fresh and enlivening. Caroline approaches business building from an entirely new paradigm of psychology and it pushes you to think about entrepreneurship from a totally different perspective! — MBZD
This podcast really helps you look deep and trust our intuition. I love her down to earth personality and sense of humor! I just love this podcast and can't wait to hear more! Thank you Caroline! — Lovelife197781
HOW TO LEAVE A REVIEW ON ITUNES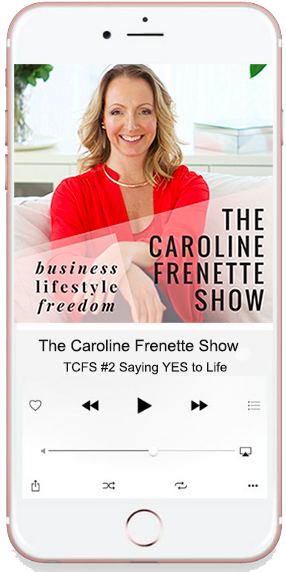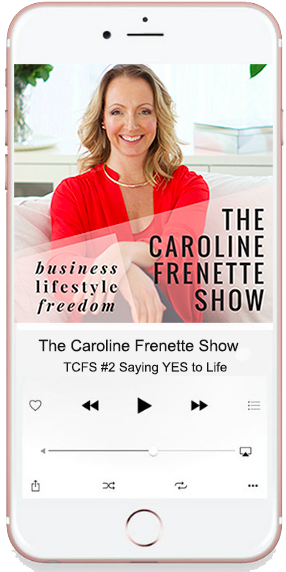 1. Click this link, it will open a new browser
2. Click on VIEW IN ITUNES –> launch application
3. Click the SUBSCRIBE button
4. Click on Ratings & Reviews
5. Then you'll see two options: Click to Rate and Write a Review 
6. Leave your rating (5 stars please!)
7. Write your review and click SUBMIT and you're done!
Thank you for supporting The Caroline Frenette Show!
Let's Connect On Social Media