{TCFS #58} Podcasting: You never know who you're inspiring
Last week, someone in one of my group programs asked me to share my experience and thoughts on podcasting: how much work is it, is it worth it, what kind of ROI could they expect…
[I wrote a detailed blog post on this very subject; if you'd like to read it, click here.]
One of the things I shared is that, sometimes, we can pour a lot of effort into something, but, at first, it looks like "nothing is happening." At the beginning, we might not get a lot of feedback from our "audience." We'll ask for support in the form of reviews, we'll ask our podcast guests to share the episode, we'll invite people to sign up to our email list, share an episode they liked on social media, or get in touch with questions…
So, what do you do when you've been pouring your heart into something, and you're not seeing a return? Do you keep going? Do you give up?
This is where your dedication to your GREAT WORK, a strong anchor in your WHY, and clarity about your VISION will determine how things pan out in your project and business.
Your love for what you do MUST BE STRONG ENOUGH to carry you through challenging times.
Because THERE IS SOMETHING HAPPENING IN THE INVISIBLE; you just don't see it yet.
And when that "something" finally appears, that ROI you were impatiently waiting for may look very different than what you'd expected.
In my blog post about podcasting, I get into a lot more details of what these ROIs have looked like for me over the last 18 months and the surprising gifts podcasting has brought me from new clients to new opportunities to more confidence in my communications skills.
Whether you're thinking of launching a new business venture, a new podcast, a new service/product or program or a book, one of the most impactful things you can do is learn how to WAKE UP and draw from your inner CEO™.
Your connection to your inner CEO™ — your capacity to bypass the limitations of the mind and to access the space within that holds infinite resilience and creative solutions — is what will ultimately determine the outcome you desire.
Interested in learning more about what awakening your inner CEO™ can do for your business and your life? Listen to The Caroline Frenette Show on iTunes or go check out the blog carolinefrenette.com/blog. There are tonnes of free resources waiting for you there.
And don't forget, you never know who you're inspiring.
So keep showing up, stay in the game, keep taking inspired action. It will eventually pay off.


DOWNLOAD "QUESTIONS TO PROBE YOUR INTUITION & GET CLARITY ON YOUR NEXT STEPS"
Gmail, Yahoo and Hotmail users: please check your junk for your confirmation email then move it email to your "MAIN" folder.
WHAT PEOPLE ARE SAYING ABOUT
THE CAROLINE FRENETTE SHOW
"Listening to Caroline is always inspiring and rewarding. She infuses us with energy and motivation. Ecouter Caroline est toujours inspirant et motivant!"— Life is really good
"This podcast is spot on. So much advice that is touted in the business world is aimed in the wrong direction. This podcast points to a deeper understanding of life and business that is sure to be helpful to the listener. I adore Caroline's accent as well." — Leap Coach Kim
HOW TO LEAVE A REVIEW ON ITUNES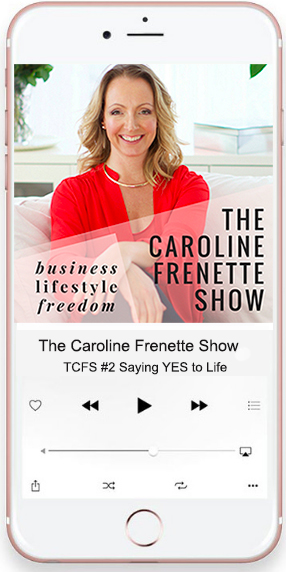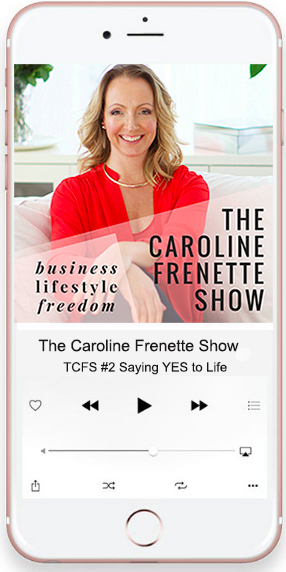 1. Click this link, it will open a new browser
2. Click on VIEW IN ITUNES –> launch application
3. Click the SUBSCRIBE button
4. Click on Ratings & Reviews
5. Then you'll see two options: Click to Rate and Write a Review 
6. Leave your rating (5 stars please!)
7. Write your review and click SUBMIT and you're done!
Thank you for supporting The Caroline Frenette Show!
Let's Connect On Social Media