TCFS #48 Entrepreneurship And The Three Principles With Jeanne Catherine Gray
Do you guys know that there's an A-W-E-S-O-M-E Three Principles event happening in Charlottesville Virginia hosted and created by the one and only Jeanne Catherine Gray? And that it's called… The Awesome Event?
If you guys don't know Jeanne, well, you should, cause she's pretty damn cool, and smart, and badass. (Cause you kinda have to be badass to pull off such an incredible event.)
Anyhoo, in order to support Jeane on her incredibly inspiring mission, I invited her on the show so we could talk biz stuff, jam about entrepreneurship and talk about The AWESOME Event.
What I love about Jeanne's event is that she invited some of the well-known speakers in The Three Principles community but also emerging voices, which is super cool.
DO LISTEN ALL THE WAY TO THE END (or skip to the end if you just can't wait) because Jeanne gives the listeners of The Caroline Frenette Show a coupon code giving you $200 off the price of the ticket. Which is insane. And awesome.
And feel free to tag me and Jeanne when you share this post (or create your own post) so we can send you a big HUGE virtual hug.
On today's episode Jeanne and I talk about:
Entrepreneurship, your unique genius and how do you go about discovering it?
The voice within: how to channel and harness your innate wisdom in your life & business
The inside-out perspective on making money
How to do "vision" in an intuitive way and let the vision organically guide your action steps
How to mine your inner resources to WAKE UP your inner CEO
        What are the Three Principles as taught by Syd Banks
I hope you enjoy this podcast chat and if you do, please share it on social media! And when you do, please tag me and tag Jeanne Catherine Gray so that we can say thank you for sharing.  Sharing is caring!  This is how you help us get the word out!
Enjoy,
Caroline, XO
PS: If you'd like to leave a 5-star review of The Caroline Frenette Show and get a thank you gift (valued at $99) follow this link: carolinefrenette.com/gift-reviews
BECOME AN INSIDER JOIN THE LIST
Gmail, Yahoo and Hotmail users: please check your junk for your confirmation email then move it email to your "MAIN" folder.
WHAT PEOPLE ARE SAYING ABOUT
THE CAROLINE FRENETTE SHOW
I could not believe the amount of insights that Caroline has led me through both with his podcast and working with her one on one in her coaching program. If you are looking for an authentic, insight driven way to create results in your life and business, look no further. Caroline is truly a gift to our generation! — ACatherineK
This podcast is like a breath of fresh air. Instead of telling you HOW things need to be or what you should or shouldn't do, Caroline & Her awesome guests inspire you to look with in! They help you tap into what really matters and reconnect to the inner wisdom that has humans we often forget we have. LOVE LOVE LOVE the simplicity of my day to day thinking now. I no longer get the feeling of being trapped in chaos of everyday life. Thank you! — Carolyn – UnordinaryLife
HOW TO LEAVE A REVIEW ON ITUNES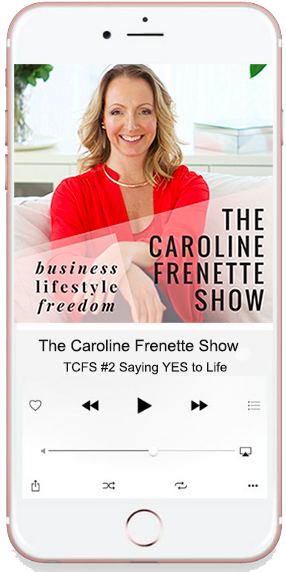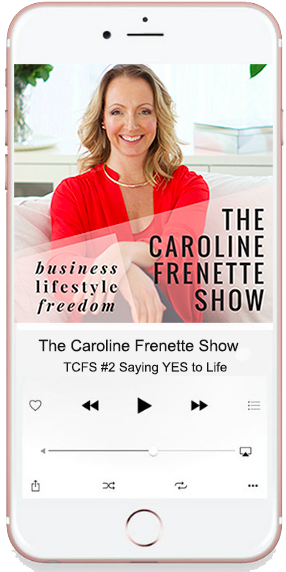 1. Click this link, it will open a new browser
2. Click on VIEW IN ITUNES –> launch application
3. Click the SUBSCRIBE button
4. Click on Ratings & Reviews
5. Then you'll see two options: Click to Rate and Write a Review 
6. Leave your rating (5 stars please!)
7. Write your review and click SUBMIT and you're done!
Thank you for supporting The Caroline Frenette Show!