TCFS #47 Copywriting & earning your entrepreneurial chops with Hillary Weiss of hillaryweiss.com
Today we're talking about all things copywriting with my guest Hillary Weiss of hillaryweiss.com.
I had the pleasure of meeting Hillary this summer via a branding course and immediately loved her energetic personality and business smarts!
Here's a recap of the episode:
The 3 keys to nailing good copy that speaks to your ideal client
How to get in the head of your ideal client to know what they really want
A simple question that will automatically connect you to your heart's wisdom and write in a way that evokes a feeling
The fail-proof way to write a sales page that converts (pay attention this ONE thing and your copy will dramatically improve)
Niching from the inside-out (no more struggling to figure out your niche!)
What deep listening has to do with copywriting <– this is probably the best hack EVER and it's also something I teach in ALL of my courses and coaching
Enjoy today's VERY lively episode with the wonderfully talented Hillary Weiss and feel free to share with anyone who needs to improve their writing skills,
Caroline, XO
PS: If you'd like to support The Caroline Frenette Show by leaving a 5 star review, follow this link: carolinefrenette.com/gift-reviews. And thank you.
BECOME AN INSIDER JOIN THE LIST
Gmail, Yahoo and Hotmail users: please check your junk for your confirmation email then move it email to your "MAIN" folder.
WHAT PEOPLE ARE SAYING ABOUT
THE CAROLINE FRENETTE SHOW
Absolutely wonderful….. I have learned so much! Obsessed with this podcasts. Keep them coming Caroline!!! — Connie Creech
How refreshing to hear the Truth behind success aka human potential and how each and every one of us has within, access to a limitless well of wisdom to create our reality from. Talking about how this relates to business is skillfully put together by Caroline in this podcast series. Caroline clearly demonstrates the power of the inside out understanding and way of being. What a delight, inspiration and game changer for anyone in business, or anyone just about to start their entrepreneurial journey. — SaraJSanderson
HOW TO LEAVE A REVIEW ON ITUNES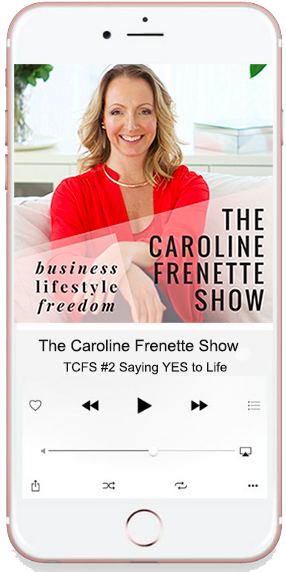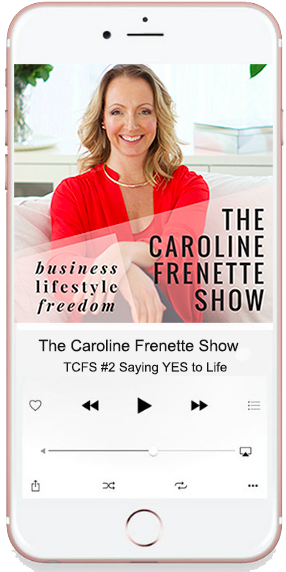 1. Click this link, it will open a new browser
2. Click on VIEW IN ITUNES –> launch application
3. Click the SUBSCRIBE button
4. Click on Ratings & Reviews
5. Then you'll see two options: Click to Rate and Write a Review 
6. Leave your rating (5 stars please!)
7. Write your review and click SUBMIT and you're done!
Thank you for supporting The Caroline Frenette Show!