TCFS #39 Get That Weight Off Your Shoulder (You Are NOT Your Business) With Kim Kaase: A Special Episode for Personal Brands, Solopreneurs & Introverts
In today's podcast episode my guest Kim Kaase and I have a blast busting the beliefs that are keeping so many entrepreneurs stuck and stressed out.
We also dive into:
How you can free yourself from made up beliefs, shoulds and rules that keep you playing small
How you're just one thought away from freedom and clarity of mind
How to open up to more creative flow and hence, more productive sprints in your business
How a simple shift in your thinking can take you from stuck in a small box to playing in the field of infinite possibilities
Caroline, XO
PS: If you'd like to leave a 5 star review of The Caroline Frenette Show and get a thank you gift (valued at $99) follow this link: carolinefrenette.com/gift-reviews
BECOME AN INSIDER JOIN THE LIST
Gmail, Yahoo and Hotmail users: please check your junk for your confirmation email then move it email to your "MAIN" folder.
WHAT PEOPLE ARE SAYING ABOUT
THE CAROLINE FRENETTE SHOW
I could not believe the amount of insights that Caroline has led me through both with his podcast and working with her one on one in her coaching program. If you are looking for an authentic, insight-driven way to create results in your life and business, look no further. Caroline is truly a gift to our generation! — ACatherineK
This podcast is like a breath of fresh air. Instead of telling you HOW things need to be or what you should or shouldn't do, Caroline & Her awesome guests inspire you to look with in! They help you tap into what really matters and reconnect to the inner wisdom that has humans we often forget we have. LOVE LOVE LOVE the simplicity of my day to day thinking now. I no longer get the feeling of being trapped in the chaos of everyday life. Thank you!  — Carolyn – UnordinaryLife
HOW TO LEAVE A REVIEW ON ITUNES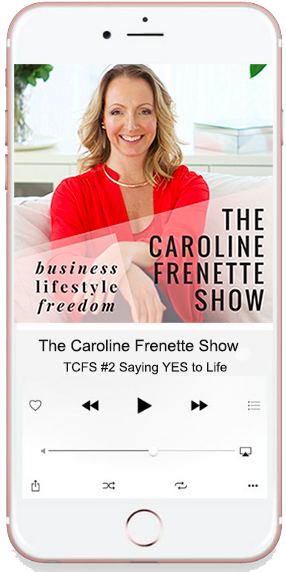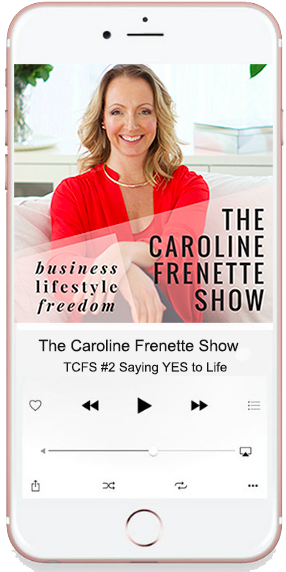 1. Click this link, it will open a new browser
2. Click on VIEW IN ITUNES –> launch application
3. Click the SUBSCRIBE button
4. Click on Ratings & Reviews
5. Then you'll see two options: Click to Rate and Write a Review 
6. Leave your rating (5 stars please!)
7. Write your review and click SUBMIT and you're done!
Thank you for supporting The Caroline Frenette Show!