TCFS #36 Barb Patterson & Caroline Frenette answer popular business-building and Three Principles related questions!
Hey Guys! Welcome to a fresh new episode of The Caroline Frenette Show with special co-host Barb Patterson.
In this podcast episode, Barb and I tackle questions we hear a lot in our community such as:
How do you deal with people/clients that drain you out, like energy vampires? How do you protect yourself against their negative energy?
I just started my coaching practice and have a hard time charging for my services. How can I help the people that need help if they can't afford to pay?
Starting a business is just so overwhelming, there's so much to do and so little time. What are your best time management tips and hacks to be productive in times of stress and busyness?
Connect with Barb barbarapatterson.com.
To learn more about Launch & Prosper, my accelerated coaching program that takes coaches, consultants, creatives and entrepreneurs through a simple & elegant launching process that yields profits & stimulates business growth, visit: carolinefrenette.com/launch-prosper. I also created a Launch & Prosper program for entrepreneurs who want a Three Principles approach to business, click the link to learn more: Launch & Prosper for 3P Coaches & Practitioners.
And if you're curious how my journey into Three Principles Coaching started, I write all about it here: Three Principles Inspired Business Coaching.
Caroline, XO
BECOME AN INSIDER JOIN THE LIST
Gmail, Yahoo and Hotmail users: please check your junk for your confirmation email then move it email to your "MAIN" folder.
WHAT PEOPLE ARE SAYING ABOUT
THE CAROLINE FRENETTE SHOW
I love Caroline's podcast. It always provides fresh, insightful perspectives on business and life. So grateful! — Kat Bars
Caroline highlights aspects of creative businesses and entrepreneurship in this can't miss self-help podcast. Caroline and her expert guests offer insightful advice and information that is helpful to anyone that listens! — Brooke Craven
HOW TO LEAVE A REVIEW ON ITUNES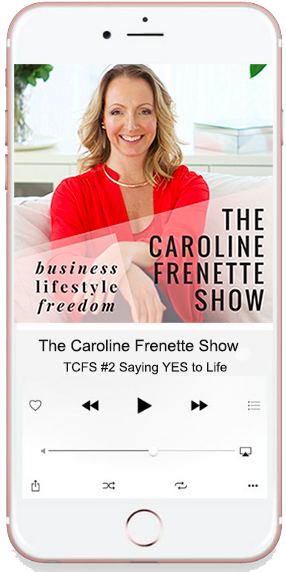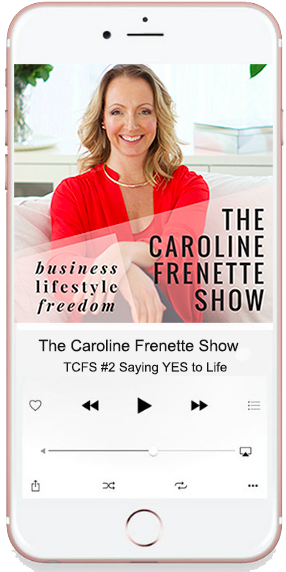 1. Click this link, it will open a new browser
2. Click on VIEW IN ITUNES –> launch application
3. Click the SUBSCRIBE button
4. Click on Ratings & Reviews
5. Then you'll see two options: Click to Rate and Write a Review 
6. Leave your rating (5 stars please!)
7. Write your review and click SUBMIT and you're done!
Thank you for supporting The Caroline Frenette Show!