TCFS #30 Destiny, Fate & The Power of Wisdom With Dicken Bettinger
In today's episode, my guest Dicken Bettinger and I explore…
Is there such a thing as destiny?
What is true our creative power as humans?
Is it possible for people to create quantum leaps in their lives and if so, how?
The breakthroughs that are truly possible in business when an entrepreneur learns about the nature of Thought, Mind and Consciousness.
What is pure consciousness and what does it have to do with creating more effortlessly?
Enjoy this wonderful conversation with my lovely guest Dicken Bettinger and as always, I welcome your reviews on iTunes! Follow this link for simple instructions carolinefrenette.com/gift-reviews. Thaaaank yooooou!
Caroline, XO
PS: My journey into the Three Principles was unexpected and created tremendous shifts for myself and my clients. If you're curious about how this amazing adventure started, you can read all about it here: Three Principles Inspired Business Coaching | A Unique Approach to 3P Coaching.
2PS: If you're a 3P Coach interested in creating a business from the inside-out, I created this program for you: Launch & Prosper For Three Principles Practitioners.
BECOME AN INSIDER JOIN THE LIST
Gmail, Yahoo and Hotmail users: please check your junk for your confirmation email then move it email to your "MAIN" folder.
WHAT PEOPLE ARE SAYING ABOUT
THE CAROLINE FRENETTE SHOW
I've been listening to Caroline for a while now, participated in some classes and I have been able to tap into my own wisdom. And so now, to have all this "wisdom" gathered in one place where I can visit over and over again has been such a gift! — MarchesaLaRenta
I am so incredibly grateful to Caroline for this gift she has given to us. This comes at the perfect time for me as I prepare to launch a new business. With all the uncertainty and anxiety that comes with it, I somehow feel a sense of peace knowing I can tune in to the TCFS and receive extremely valuable guidance, all for free! Thank you so much Caroline!  — Fox888s
HOW TO LEAVE A REVIEW ON ITUNES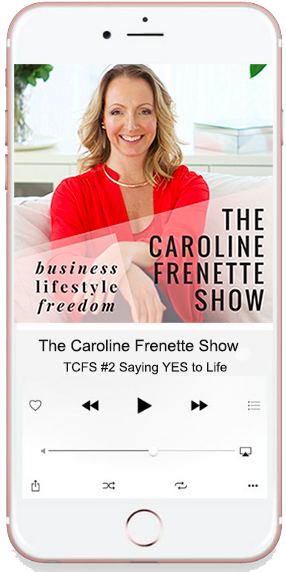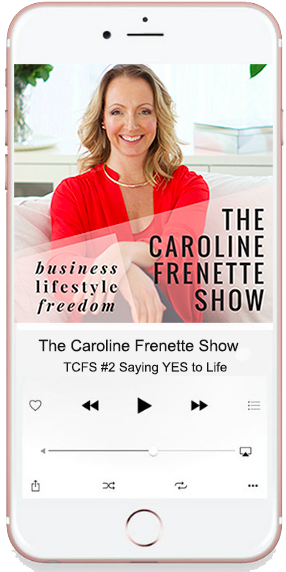 1. Click this link, it will open a new browser
2. Click on VIEW IN ITUNES –> launch application
3. Click the SUBSCRIBE button
4. Click on Ratings & Reviews
5. Then you'll see two options: Click to Rate and Write a Review 
6. Leave your rating (5 stars please!)
7. Write your review and click SUBMIT and you're done!
Thank you for supporting The Caroline Frenette Show!