TCFS #27 New Leadership And The Three Principles With Mary Schiller
Key takeaways from this episode with Mary Schiller:
What is wisdom-centered leadership?

What would happen if more people led from the heart?

How can one person impact global change?

Leadership is not a role given to you,  everyone has the capacity to lead in their own lives

The many different facets of leadership and what it looks like in our everyday life

How to stop listening to personal thinking that keeps you playing small and instead, listen to wisdom to create change

How to manage many ideas or project at once

How copying other people voice-work-brand is the surest way to failure

You have the same inner resources as anyone else including Oprah Winfrey, Obama or anyone that you admire
If you'd like to leave a 5 star review of The Caroline Frenette Show and get a thank you gift (valued at $99) follow this link: http://carolinefrenette.com/gift-reviews/
Caroline, XO
BECOME AN INSIDER JOIN THE LIST
Gmail, Yahoo and Hotmail users: please check your junk for your confirmation email then move it email to your "MAIN" folder.
WHAT PEOPLE ARE SAYING ABOUT
THE CAROLINE FRENETTE SHOW
Very inspiring, love it! Perfect to help stay focused on life goals. Helps being in the state of mind needed to be successful. A super show! — Va Va Val
She's inspiring and she'll help you manifest your lifelong desires! I'm so lucky to have her as my sister…Go Sis!!! — Mélanie
HOW TO LEAVE A REVIEW ON ITUNES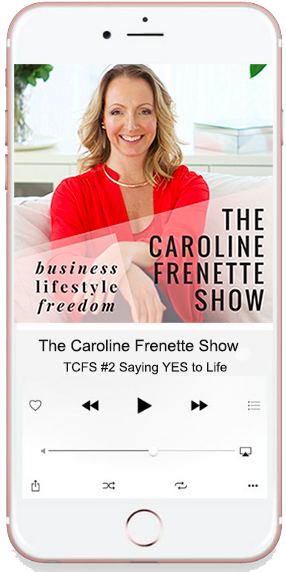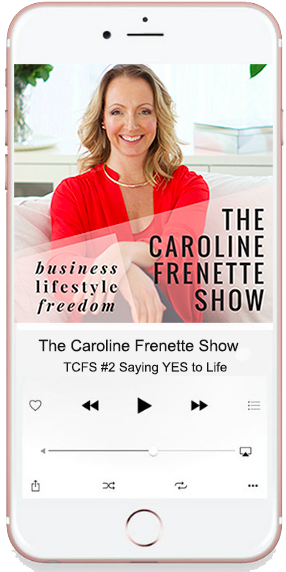 1. Click this link, it will open a new browser
2. Click on VIEW IN ITUNES –> launch application
3. Click the SUBSCRIBE button
4. Click on Ratings & Reviews
5. Then you'll see two options: Click to Rate and Write a Review 
6. Leave your rating (5 stars please!)
7. Write your review and click SUBMIT and you're done!
Thank you for supporting The Caroline Frenette Show!