TCFS #28 Effortlessness with my Mastermind Buddy Simon
In today's episode I'm taking you inside my own mastermind where I had a conversation with my friend and fellow supercoach Simon Ngu about experiencing effortlessness while being in action and challenging ourselves.
In this podcast episode we explore:
How to stop overthinking and operate from a clearer, less noisy state of mind

How effortlessness has everything to do with your thinking and nothing to do with actual the actions you take
And this one is HUGE:
The amount of energy expanded has no correlation on the results you actually create
The invitation…
What if you could tackle BIG projects and big dreams without your usual stress, heck maybe even feel fearless?  Or even better, what if your fears (your fearful thinking) didn't have to stop you?
Caroline, XO
BECOME AN INSIDER JOIN THE LIST
Gmail, Yahoo and Hotmail users: please check your junk for your confirmation email then move it email to your "MAIN" folder.
WHAT PEOPLE ARE SAYING ABOUT
THE CAROLINE FRENETTE SHOW
I love Caroline's podcast. It always provides fresh, insightful perspectives on business and life. So grateful! — Kat Bars
"I love her energy and I love her voice. It's extremely inspiring for me. I love listening to her "Saying Yes To Life" episodes as they are about listening to your own wisdom. It's wonderful that you have created this podcast Caroline. Thank you a thousand times Caroline."  — Marie Meiss
HOW TO LEAVE A REVIEW ON ITUNES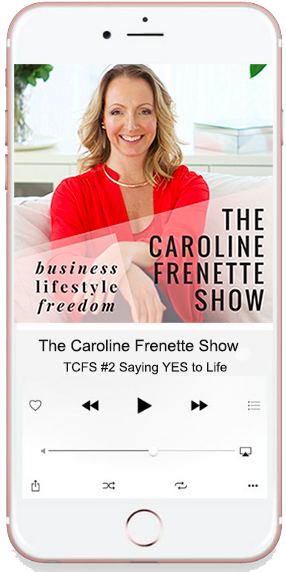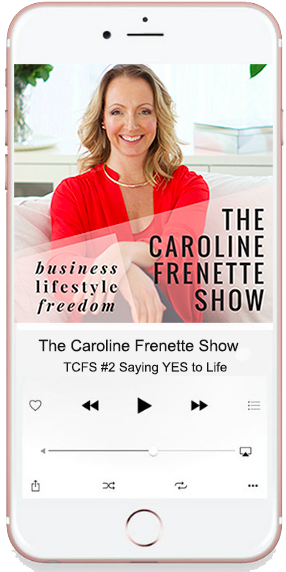 1. Click this link, it will open a new browser
2. Click on VIEW IN ITUNES –> launch application
3. Click the SUBSCRIBE button
4. Click on Ratings & Reviews
5. Then you'll see two options: Click to Rate and Write a Review 
6. Leave your rating (5 stars please!)
7. Write your review and click SUBMIT and you're done!
Thank you for supporting The Caroline Frenette Show!