Is Podcasting Worth It? Should I Start My Own Podcast? What's The ROI On This Thing, Anyway?
All great questions from people who are considering podcasting.
And the answer is? Depends on your intentions and goals.
I love podcasting for several reasons:
#1 Podcasting helped me become a better communicator and build my confidence as a speaker.
My first episodes sucked, big time. But after 50+ episodes (at the time of writing this blog) I've become much more confident behind the mic. From the beginning I knew that I wanted my podcast to have a professional sound to it, so I invested in good equipment (a good mic is a necessity!), good editing software and purchased a cool tune for my intro. (Remember, you're in your listeners ears, it's very personal and sound quality is super important.)
Podcasting also helped me get better on expressing my message, my mission and my vision for entrepreneurship and the world. If you don't know what I'm talking about listen the intro of my podcast which by the way changes all the time now that I'm more confident and clear on my message.
This confidence and passion for the craft has also translated in many opportunities to be featured as a guest on other people's podcasts which in turn, has brought greater visibility for my work.
#2 It challenged me to be more creative in my day to day.
Every week, I'd wonder: "Do I even have ANYTHING to say?" to which my little ego mind would promptly reply: "No, you don't."
The trick was to ignore those untrustworthy thoughts and to get back into the creative flow.
#3 It helped me become more consistent with creating content, which I thought couldn't be done "from my intuitive flow." (I was wrong again.)
Turns out it's totally possible for inspiration and consistency to be best buds IF we know how to tap into the infinite source of fresh new ideas that's available to us at ANY given moment.
When you know how to do that, you're in business!
#4 The ROI has been surprising but showed up in a different form than I had initially expected.
I don't have millions of downloads (yet), but I realized that it was not the goal. The goal is for my "right people" to listen, get to know me, get to know The Three Principles (and see how practical they are in entrepreneurship & business building) and get insights that will enable them to make leaps in their own lives and businesses.
And when the time is right, and if the offer is right, these peeps connect with me to learn more about my coaching services or to jump into one of my programs. #awesome
New collaborations have emerged and fresh new ideas for creative projects. (Creative projects = fresh new streams of income. #yum)
I've also had clients tell me that it is through listening to the podcast that they got to know me, my personality, how I create in my business and my style of coaching, and that was the tipping point for them to decided to work with me.
So yes, podcasting has brought me wonderful new clients and students enrolling n my group coaching programs and online courses.
#5 It enabled me to grow my audience.
There are many effective strategies you can use to grow your podcast audience but today, I'm going to share one of the most obvious: ask your guests share their episodes with their audience!
If you want to implement this strategy successfully you'll want to have a clear written agreement in place before you book a guest. The more specific the agreement the better, so make sure to detail where you'd like them to share the episode (which specific social media platforms) or if they'd be willing to send a dedicated email to their list. To make it a no brainer, provide your guest with a pre-written blurb along with the exact link you want them to share.
Don't forget to ask them to tag you on social media so you can write a comment in the post (a thoughtful thank you will do) which will boost it's visibility!
#6 I learned a tonne about podcasting and the technology behind it.
Not everyone is a techie and for many, the thought of learning a new technology will discourage them. But because I've been building my own websites for years and love learning tech stuff, I really enjoyed learning about the technicalities of podcasting.
Now, the tech is not the only thing you're going to have to learn, you're also going to have to MARKET your podcast and if you're new to marketing, you'll have to learn basic marketing strategies to get the work out on your podcast. (There are millions of podcasts on iTunes so build it and they will come just won't cut it.)
So, if you're considering starting your own podcast, you should know that:
Podcasting is A LOT WORK. Even if you delegate the editing part.
Podcasting will require that you be consistent and focused. That's not for everyone.
Podcasting will require that you learn new technologies and invest in the right equipment.
Podcasting will trigger thoughts of "I'm not good enough" or "I don't know enough" or "who am I to do this" or "what will THEY think?" And your job will be to IGNORE those thoughts so you can STEP INTO A HIGHER LEVEL OF LEADERSHIP WITHIN YOURSELF AND GET YOUR WORK INTO THE WORLD. (Capital letters for emphasis —  I'm not actually screaming here.). 🙂
But, if podcasting is RIGHT for you, and you commit to this adventure FULL ON, your business will thank you. And your clients —  your audience —  will too.
Caroline, XO
PS: Season 2 of The Caroline Frenette Show will start again in September 2017 with 2 new series.
The first one will be a gift for the Three Principles community and will feature conversations with inspiring teachers and leaders that are committed to bringing the Inside-Out Understanding into the world IN A BIG WAY, but the format will be unlike it has ever been done before. (Hint: I'm inviting my guests to have a deeply personal conversation and answer questions that are shall we say, outside the box.)
The second series will feature people I consider my business allies: branding experts, copywriters, transformative marketers, designers, financial experts whoI love and trust. People who I consider innovators. Not same old same old recycled content here — only FRESH, NEW + UPLIFTING conversations that will delight and inspire you to take action and create massive velocity in your business while you dance to the beat of JOY and INFINITE POSSIBILITIES.
BECOME AN INSIDER JOIN THE LIST
Gmail, Yahoo and Hotmail users: please check your junk for your confirmation email then move it email to your "MAIN" folder.
HOW TO LEAVE A REVIEW ON ITUNES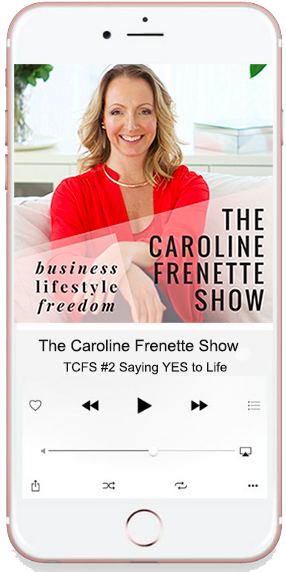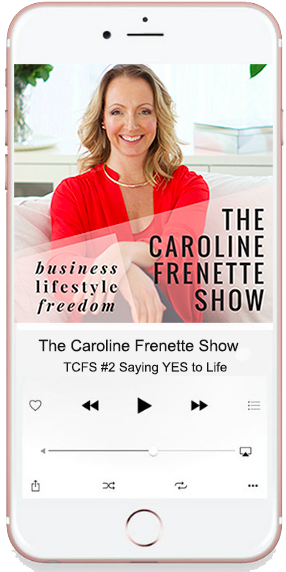 1. Click this link, it will open a new browser
2. Click on VIEW IN ITUNES –> launch application
3. Click the SUBSCRIBE button
4. Click on Ratings & Reviews
5. Then you'll see two options: Click to Rate and Write a Review 
6. Leave your rating (5 stars please!)
7. Write your review and click SUBMIT and you're done!
Thank you for supporting The Caroline Frenette Show!