TCFS #41 Bonus Summer Episode: What's coming up in Season 2 of The Caroline Frenette Show
Coming up in Season 2 of The Caroline Frenette Show a new series on business building with experts in:
Branding: Why you Want To Build A Brand Not A Business
Copywriting That Converts And Feels Good To Write
Content Creation That Speaks To Your Ideal Clients
Transformative Marketing: The Art Of Making All Your Communications Authentic Transformative
Funnels Made Easy & Fun
Facebook Ads For Newbies: How To Get The Most Bang For Your Buck
Course Building: How To Ensure Your Students Get Results
The Legal Responsibilities Of Being A Business Owner
The Ethics of Selling Coaching
Giving Back To Your Community
Behind The Scenes of My Latest Launches
Building A Freedom Based Business: What Does It Really Mean And What Kind Of Business Structure Does It Take?
What Is A Mastermind And Why You Need One
Also coming up later on in the season, a special series called "Up Close And Personal" where I'll be asking leaders, teachers and emerging voices in the Three Principles Community thought provoking questions so we can get to know their passions, goals and vision for the world.
Caroline, XO
BECOME AN INSIDER JOIN THE LIST
Gmail, Yahoo and Hotmail users: please check your junk for your confirmation email then move it email to your "MAIN" folder.
WHAT PEOPLE ARE SAYING ABOUT
THE CAROLINE FRENETTE SHOW
Absolutely wonderful….. I have learned so much! Obsessed with this podcasts. Keep them coming Caroline!!! — Connie Creech
How refreshing to hear the Truth behind success aka human potential and how each and every one of us has within, access to a limitless well of wisdom to create our reality from. Talking about how this relates to business is skillfully put together by Caroline in this podcast series. Caroline clearly demonstrates the power of the inside out understanding and way of being. What a delight, inspiration and game changer for anyone in business, or anyone just about to start their entrepreneurial journey. — SaraJSanderson
HOW TO LEAVE A REVIEW ON ITUNES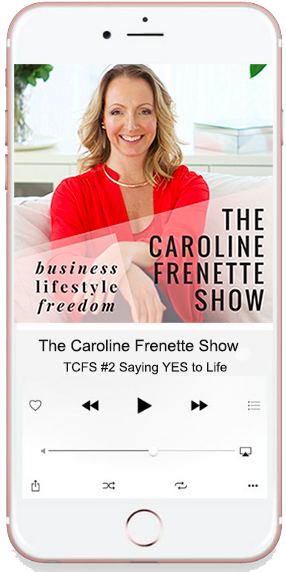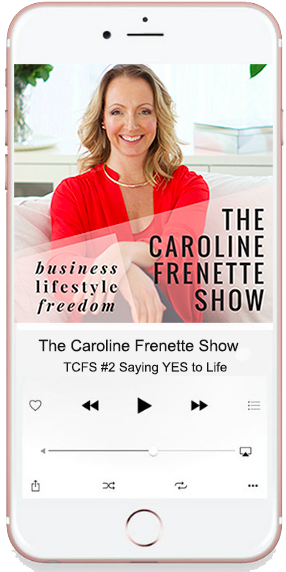 1. Click this link, it will open a new browser
2. Click on VIEW IN ITUNES –> launch application
3. Click the SUBSCRIBE button
4. Click on Ratings & Reviews
5. Then you'll see two options: Click to Rate and Write a Review 
6. Leave your rating (5 stars please!)
7. Write your review and click SUBMIT and you're done!
Thank you for supporting The Caroline Frenette Show!