TCFS #40 Your Clients Are EVERYWHERE + How To Become More "Visible" So Your Clients Can Find You
If you're like many smart business owners, coaches, service-based entrepreneurs launching your first online or offline business, you probably find yourself struggling with the same issues many of my clients are such as "How + where do I start?", "Who the heck is my target market?", "WHERE oh WHERE are my clients HIDING?" or "I don't have any paying clients, HELP!"
The simple truth is that your ideal clients are all around you. But as human beings who tend to overthink pretty much everything (including business building) and we overcomplicate the client creation process to the point where we can't see the OBVIOUS: what's right in front of us.
In this podcast episode, I share with you specific examples and client success stories that will help you see the obvious: that your clients are all around you.
This episode also will show you the practicality of working with your inner CEO — your inner wisdom — and will show you The Three Principles at play in your life so that you can more easily snap out of a fearful or confused state of mind and summon your inner courage to take bold actions.
Plus, if you feel like you've been hiding in your business, this episode will challenge you to get out of your comfort zone and step into a greater level of visibility so your clients can SEE you.
This episode also features 2 cool success stories from 2 of my *fabulosity clients* and how when they took BOLD and COURAGEOUS actions, it had an almost instantaneous impact on their bottom line.
If you like this episode share it with your friends, clients or colleagues using any of the social shares buttons on this page!
To stay in the loop and get the invites to my free online training and get the scoop in my upcoming programs, sign up below…
And to learn more about Launch & Prosper Start-Up or Launch & Prosper THE NEXT LEVEL click here: carolinefrenette.com/launch-and-prosper.
Caroline, XO
BECOME AN INSIDER JOIN THE LIST
Gmail, Yahoo and Hotmail users: please check your junk for your confirmation email then move it email to your "MAIN" folder.
WHAT PEOPLE ARE SAYING ABOUT
THE CAROLINE FRENETTE SHOW
I've been listening to Caroline for a while now, participated in some classes and I have been able to tap into my own wisdom. And so now, to have all this "wisdom" gathered in one place where I can visit over and over again has been such a gift! I'm so grateful! 
— MarchesaLaRenta
I am so incredibly grateful to Caroline for this gift she has given to us. This comes at the perfect time for me as I prepare to launch a new business. With all the uncertainty and anxiety that comes with it, I somehow feel a sense of peace knowing I can tune in to the TCFS and receive extremely valuable guidance, all for free! Thank you so much Caroline! — fox888s
HOW TO LEAVE A REVIEW ON ITUNES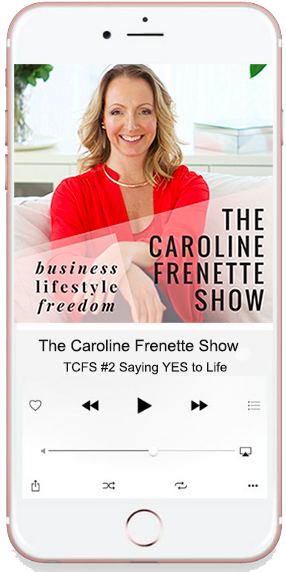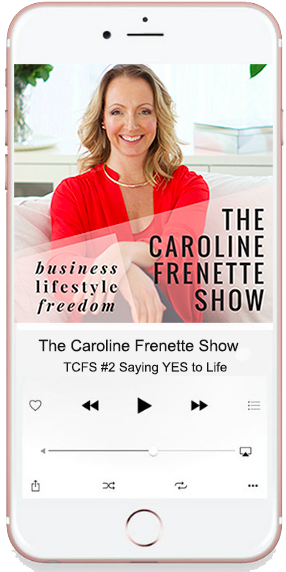 1. Click this link, it will open a new browser
2. Click on VIEW IN ITUNES –> launch application
3. Click the SUBSCRIBE button
4. Click on Ratings & Reviews
5. Then you'll see two options: Click to Rate and Write a Review 
6. Leave your rating (5 stars please!)
7. Write your review and click SUBMIT and you're done!
Thank you for supporting The Caroline Frenette Show!