TCFS #33 Caroline Frenette & Barb Patterson: Reverse Engineering The Right Way
In today's episode Barb and I jam on motivation, inspiration, intention and reverse engineering the right way and we talk about how…
The execution of an idea is as important as the idea itself;

How our deeper intentions can be a leading and directional force, even if we don't have clear goals;
There's no such thing as a "good" idea or "bad" idea, when we're fully present to life and engage fully in the creative process we can pivot quicker by not staying in inner judgement;
How to get in the game and be fully engaged in life
How to stop over planning – and over thinking – and make decisions based on what occurs to us moment by moment
The difference between motivation and inspiration
Enjoy today's episode!
Caroline, XO
BECOME AN INSIDER JOIN THE LIST
Gmail, Yahoo and Hotmail users: please check your junk for your confirmation email then move it email to your "MAIN" folder.
WHAT PEOPLE ARE SAYING ABOUT
THE CAROLINE FRENETTE SHOW
Full of wisdom! I love this podcast and I love Caroline! There is always so much wisdom in her teachings.  — Jennifer J. Young
Caroline has such a fresh way of speaking about marketing, entrepreneurship and business-building that's so unlike the mainstream ego-driven mindset. Each week the relevant topic is explored through the inside-out understanding to show us how we can create in the world by tapping into our inherent creative potential. I learn so much and always look forward to the next episode!  — Brooke Craven
HOW TO LEAVE A REVIEW ON ITUNES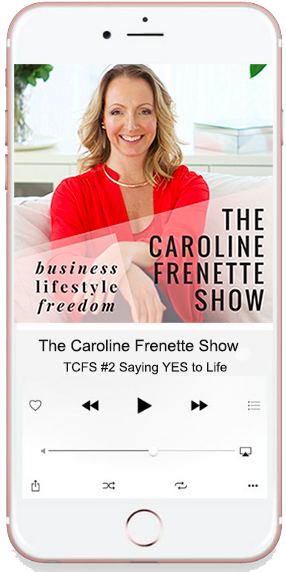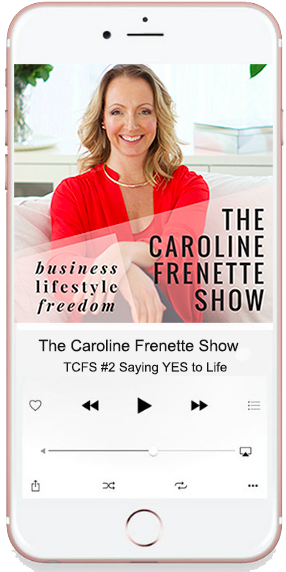 1. Click this link, it will open a new browser
2. Click on VIEW IN ITUNES –> launch application
3. Click the SUBSCRIBE button
4. Click on Ratings & Reviews
5. Then you'll see two options: Click to Rate and Write a Review 
6. Leave your rating (5 stars please!)
7. Write your review and click SUBMIT and you're done!
Thank you for supporting The Caroline Frenette Show!