TCFS #32  My New Co-Host For This Special Series: Barb Patterson + When best laid plans don't go your way… go with the flow of life!
Hey Guys! Welcome to a very special episode of The Caroline Frenette Show: the first in a series with my special co-host Barb Patterson.
Back in September 2016, I invited Barb to join me as co-host on the podcast for a special series so that we could jam together on what inspires us these days, how we see the inside-out creative process in business building and bring a fresh perspective to marketing, sales, client creation, leadership, coaching, making money and all the different challenges we come up against as entrepreneurs and how we see The Three Principles behind the answer to all those challenges or problems.
Here's what we cover in this episode:
What Barb did when her plan for the beginning of the new year went haywire

What I did when my plans for the beginning of the new year went haywire jeez, did that happen to everyone?)

The best way to deal with plans not going our way and how to stop fighting with life

What we think of resolutions 🙂

How to fuel your creativity

How to stop "hacking" everything (productivity, goal setting, time, your life…!) and what you can do instead

The real key to productivity and efficiency

How we put dams on the flow of ideas, possibilities, money

What following my intuition's advice to write did for my business that was tremendously surprising

The best way to unleash your creative force and bypass the limitations of the mind

Where true performance and potential come from and how to access it

Why the "guru's" formulas or step by step don't guarantee success nor work for MOST people

How to stop looking outside of yourself for ideas or solutions and find your own source of inspiration

Why following someone's advice might not be the way to go
Barb and I would love to hear from you:
What are your biggest takeaways from this episode?

What would you love for us to cover in a future episodes?
Send us a tweet I'm divineyoganista on twitter and Barb is Barb_Patterson.
And… if you're a coach, consultant or service-based entrepreneur OR you'd like to start your own business check out Launch & Prosper. (If you're a Three Principles coach, teacher or practitioner click here: carolinefrenette.com/launch-prosper-3p.)
If you'd like to support the show by leaving a review follow the simple steps laid out here.
Caroline, XO
BECOME AN INSIDER JOIN THE LIST
Gmail, Yahoo and Hotmail users: please check your junk for your confirmation email then move it email to your "MAIN" folder.
WHAT PEOPLE ARE SAYING ABOUT
THE CAROLINE FRENETTE SHOW
This podcast is spot on. So much advice that is touted in the business world is aimed in the wrong direction. This podcast points to a deeper understanding of life and business that is sure to be helpful to the listener. —  Leap Coach Kim
In her special way Caroline inspires me to think bigger, take action and reach for more than what my "little mind" allows. She's provocative in a way that is inspirational and opening, that brings me in touch with my inner wisdom and empowers me to take bold action. I love her take on Life and am especially taken by the Three Principles of which she is a teacher. — Mlb205
HOW TO LEAVE A REVIEW ON ITUNES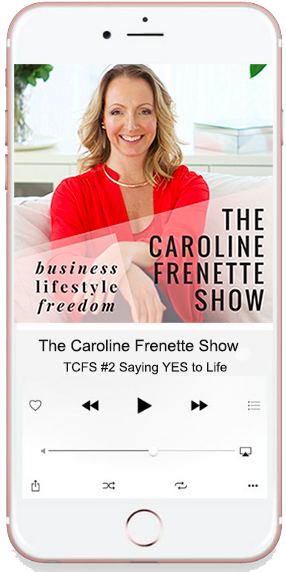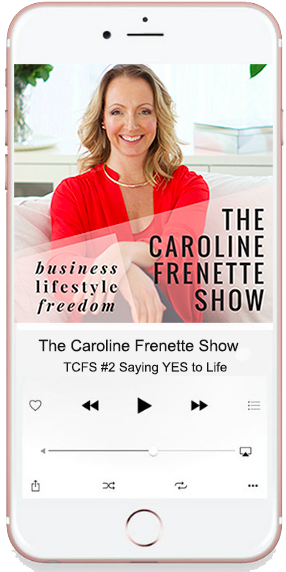 1. Click this link, it will open a new browser
2. Click on VIEW IN ITUNES –> launch application
3. Click the SUBSCRIBE button
4. Click on Ratings & Reviews
5. Then you'll see two options: Click to Rate and Write a Review 
6. Leave your rating (5 stars please!)
7. Write your review and click SUBMIT and you're done!
Thank you for supporting The Caroline Frenette Show!