TCFS #7 Slowing Down To The Speed Of Life with Barb Patterson
If you're an ambitious entrepreneur who's been pushing, striving, driving hard (and fast), and constantly working on yourself and your mindset so that you have the success you desire, you "get it done," yet your "to-do" list doesn't get any smaller – if you're feeling burnt out, tired, drained – if your body is constantly operating on adrenaline, and you're starting to realise that maybe there's a better way to go about creating a successful business – this episode is for you.
In this podcast episode, Barb & I talk about…
→ How overwhelm, drive and ambition usually come with a (high) price and how to, instead, create amazing results WITHOUT this constant pushing;
→ What the Three Principles have to do with creating a business, money or anything your desire for that matter
→ How to access your super-productivity (HINT: It's not about overworking yourself to death, time management, or having a better mindset or better tools and systems; it's about tapping into the energy of life, and we'll show you how to do just that.); and
→ How modelling what other successful people are doing MAY NOT be the right thing for you to do (In fact, it may be constricting + limiting your true potential, your authentic voice and your creative flow).
→ I also share a true story of how an insight TOTALLY freed me from overwhelm and how, as a result, I became SUPER productive and got 3 months of work done in 2 WEEKS!!! My mastermind at the time was witness to this and couldn't believe what I had gotten done in such a short amount of time.
This conversation with Barb triggered a bunch of new insights for me, and I know that, if you listen without anything on your mind, you'll also get some powerful, life-changing insights.
Enjoy,
Caroline, xo
BECOME AN INSIDER JOIN THE LIST
Gmail, Yahoo and Hotmail users: please check your junk for your confirmation email then move it email to your "MAIN" folder.
WHAT PEOPLE ARE SAYING ABOUT
THE CAROLINE FRENETTE SHOW
I love her energy and I love her voice. It's extremely inspiring for me. I love listening to her "Saying Yes To Life" episodes as they are about listening to your own wisdom. It's wonderful that you have created this podcast Caroline, thank you a thousand times. — Marie Meiss
How refreshing to hear the Truth behind success aka human potential and how each and every one of us has within, access to a limitless well of wisdom to create our reality from. Talking about how this relates to business is skillfully put together by Caroline in this podcast series. Caroline clearly demonstrates the power of the inside out understanding and way of being. What a delight, inspiration and game changer for anyone in business, or anyone just about to start their entrepreneurial journey. — SaraJSanderson
HOW TO LEAVE A REVIEW ON ITUNES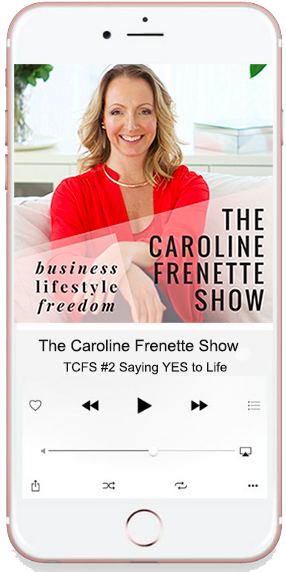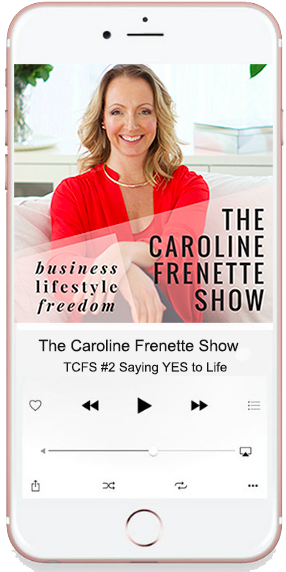 1. Click this link, it will open a new browser
2. Click on VIEW IN ITUNES –> launch application
3. Click the SUBSCRIBE button
4. Click on Ratings & Reviews
5. Then you'll see two options: Click to Rate and Write a Review 
6. Leave your rating (5 stars please!)
7. Write your review and click SUBMIT and you're done!
Thank you for supporting The Caroline Frenette Show!