TCFS #45 BRANDING MADE EASY WITH SARAH ANCALMO ASHMAN OF PUBLIC-PERSONA
This episode is a real treat! We're talking aaaaallll things branding with the one and only Sarah Ancalmo Asham of public-persona.com. 
Sarah is an extremely intuitive and talented branding expert, and she's worked with top brands in fashions as well as personal brands. I've had the pleasure of working with Sarah over the summer and I can't recommend her services or programs enough. (<– This recommendation comes from the heart, I'm NOT an affiliate in any way.)
This episode is a MUST listen BEFORE you book your photoshoot, BEFORE you hire a web developer and/or a graphic designer and BEFORE you go ahead and dish out thousands of dollars working with a copywriter.
Here's a recap of today's episode:
What is branding and why is it SO MUCH more than a logo, fonts and a pretty website

Sarah's approach to branding (I call it inside-out branding)

How to tap into your intuition to nail your branding

The insights and changes I'm going through in business thanks to branding with Sarah

How do you know if you need branding?

Why you want to build a brand, not a business
How to define your branding identity and how to express that clearly
How to tell your story in a compelling way
The impact of truly good branding for your business
This episode is PACKED with super valuable information to help you get started in your branding or make simple changes that will have a big impact on your brand. After you've listened to the episode, I want to encourage you to implement simple changes that will refresh your branding!  Go through your social media accounts, your website, your photos and remove anything that doesn't feel in alignment! Make small but impactful changes!
Enjoy,
Caroline, XO
BECOME AN INSIDER JOIN THE LIST
Gmail, Yahoo and Hotmail users: please check your junk for your confirmation email then move it email to your "MAIN" folder.
WHAT PEOPLE ARE SAYING ABOUT
THE CAROLINE FRENETTE SHOW
Very inspiring, love it! Perfect to help stay focused on life goals. Helps being in the state of mind needed to be successful. A super show! — Va Va Val
I love everything that Caroline does. She is inspirational and all her work is of very high quality and this podcast is just awesome. — Sue Be Now
HOW TO LEAVE A REVIEW ON ITUNES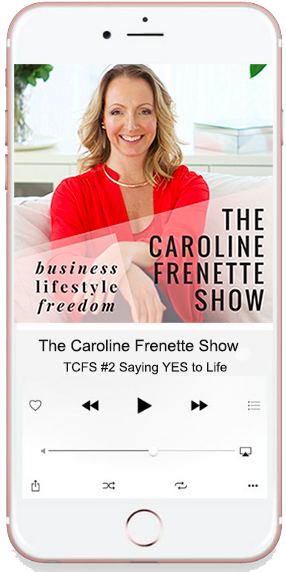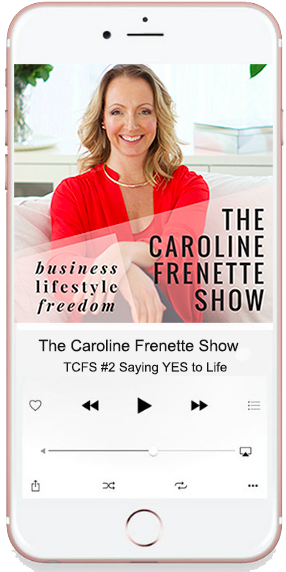 1. Click this link, it will open a new browser
2. Click on VIEW IN ITUNES –> launch application
3. Click the SUBSCRIBE button
4. Click on Ratings & Reviews
5. Then you'll see two options: Click to Rate and Write a Review 
6. Leave your rating (5 stars please!)
7. Write your review and click SUBMIT and you're done!
Thank you for supporting The Caroline Frenette Show!