Welcome to The Caroline Frenette Show Episode #13 Ken Manning: The Invisible Power That Shapes Our Lives
Welcome to another episode of The Caroline Frenette Show, a podcast dedicated to helping you develop your business intuition, WAKE UP your inner CEO™ and unleash your FULL creative potential.
In today's episode Ken and I talk about:
→ How to get out of a crappy state of mind and get back into productivity quickly
→ The biggest shift you need to make to generate more revenue in your business
→ We don't experience life through our sense, but through our thinking
→ What is the invisible power that shapes your reality?
→ How to clear of 90% of the inefficiency in business
→ You don't have to change or manipulate your thinking or work on your mindset to feel better, and what to do instead
→ It doesn't matter what you think, it matters that you know that you are a thinker
→ If you realise that you're playing an inside-out game then you know the rules of the game and you are all set to win
Enjoy today's episode and please feel free to share this podcast on social media and to leave a review on iTunes!
Caroline, xo
Selected Links From This Epsiode
BECOME AN INSIDER JOIN THE LIST
Gmail, Yahoo and Hotmail users: please check your junk for your confirmation email then move it email to your "MAIN" folder.
WHAT PEOPLE ARE SAYING ABOUT
THE CAROLINE FRENETTE SHOW
Absolutely wonderful….. I have learned so much! Obsessed with this podcasts. Keep them coming Caroline!!! — Connie Creech
How refreshing to hear the Truth behind success aka human potential and how each and every one of us has within, access to a limitless well of wisdom to create our reality from. Talking about how this relates to business is skillfully put together by Caroline in this podcast series. Caroline clearly demonstrates the power of the inside out understanding and way of being. What a delight, inspiration and game changer for anyone in business, or anyone just about to start their entrepreneurial journey. — SaraJSanderson
HOW TO LEAVE A REVIEW ON ITUNES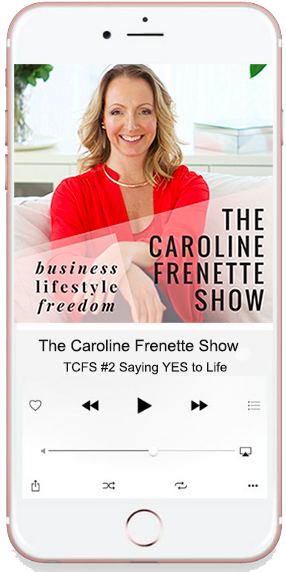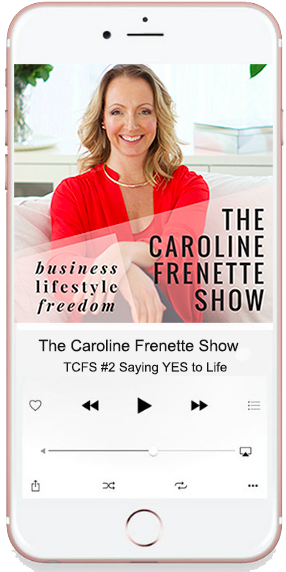 1. Click this link, it will open a new browser
2. Click on VIEW IN ITUNES –> launch application
3. Click the SUBSCRIBE button
4. Click on Ratings & Reviews
5. Then you'll see two options: Click to Rate and Write a Review 
6. Leave your rating (5 stars please!)
7. Write your review and click SUBMIT and you're done!
Thank you for supporting The Caroline Frenette Show!