TCFS #37 Behind the scenes of the launch of my 12 week online program From Broke To Blissfully Booked™
Today's podcast episode takes you behind the scenes of how I launched my 12 week online program From Broke To Blissfully Booked™.
I wanted to start this series on launching with this particular launch I did 2 years ago to show you that you can start small (small email list, small team and very small budget for FB ads) and do really well.
I know the big 6 and 7 figure launches are enticing + inspiring but they can also make you wonder…how?
Here's how: to get to the BIG launch start where you're at and you'll eventually get to the 6 or 7 figure launches. =-)
I usually only share this kind of information with my clients because hey, MY business. And… I want to vomit when entrepreneurs brag about their numbers when really? They're not telling the whole truth like… how much PROFIT is actually left in the business.
But my intention for the podcast has always been to take you BEHIND the scenes of how my guests and I are building our business, to not sugarcoat it, to keep it real and to show the good, the bad AND the ugly. And this episode is meant to do just that.
In the coming months I will also take you behind the scenes of how I created and launched my current baby, Launch & Prosper. HINT: this time I'm doing things very differently… a slower more enjoyable pace, no stress, more fun, more creativity and a better understanding of State of Mind.
Enjoy and feel free to use any of the social share button or copy and paste the url of this page in an email if you think someone you know could benefit from hearing this episode.
Caroline, XO
BECOME AN INSIDER JOIN THE LIST
Gmail, Yahoo and Hotmail users: please check your junk for your confirmation email then move it email to your "MAIN" folder.
WHAT PEOPLE ARE SAYING ABOUT
THE CAROLINE FRENETTE SHOW
I love listening to Caroline's Podcasts and also had the pleasure of working with her during her Summer of Abundance Course which was fab! I highly recommend both listening to Caroline's mind-expanding podcasts and also checking out her work. You will most certainly gain a deeper understanding of the three principles as well as learn how to create a successful business that you love from the inside out. — MichaelaJane777
I love listening to Caroline's podcast and find her discussions with others of the understanding where our experience of life comes from a really refreshing change from the usual business podcasts. Totally recommend! — 278lizzie
HOW TO LEAVE A REVIEW ON ITUNES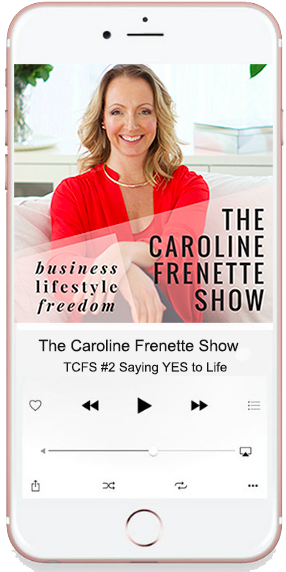 1. Click this link, it will open a new browser
2. Click on VIEW IN ITUNES –> launch application
3. Click the SUBSCRIBE button
4. Click on Ratings & Reviews
5. Then you'll see two options: Click to Rate and Write a Review 
6. Leave your rating (5 stars please!)
7. Write your review and click SUBMIT and you're done!
Thank you for supporting The Caroline Frenette Show!